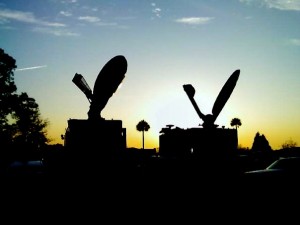 It is time to talk about live shots: Why do them and how do they benefit the viewer? This is not the first time Survive has talked about live shots, (You know our logo shot!) including how to make a boring location more compelling, especially at night. But this issue keeps cropping up, so let's focus on it again. Live shots are such a tremendous part of the day-to-day news cycle. Yet they are misused much of the time. They really are.
Here's why I say that. Live shots which are just "live for the sake of being live" used to be a common marketing gimmick in the 90's and had a real, beneficial purpose. First, it's hard to believe now but, back then not everyone could go live everywhere. Also, if people could drive by the truck with your station logo on it, they would know you are live, in their neighborhood (or hot zip). See the station cares! But let's think about how most live shots are now being done. Many are using backpack live units. Some newsrooms use cell phones or tablets to go live. The marketing/PR benefit of the big live truck with its mast up is really not as relevant.  
So let's talk about why so many managers still push live for the sake of being live. (In case that term is confusing, that's when there is no active scene or anything else to show viewers. You are standing in front of an empty building, or at the location of a scene that has been cleared.) These managers think that putting up a live chyron makes it seem like the story is immediate, relevant and therefore worth putting down your phone or tablet to only watch the television for a moment. That is wrong. Period. It also is lazy.
Live shots are effective in this digital age when you can actively show something happening. Viewers are used to seeing people live in front of action. A live chyron is simply not good enough to make something seem important or relevant, when it is not. It looks stale, feels like a trick or has no impact at all depending on how observant a particular viewer may be. Most don't even notice the live chyron unless there is action in the shot. Go through viewer diaries and focus groups and you quickly learn this. The live chyron is just not that impressive. The action is the attention grabber.
Now, managers, I know what you are thinking: "But we have to have our crews spread across the DMA in case of breaking news. So why not also get a live shot out of the deal?" I am going to argue that it would be more effective to have those crews stationed around the market, turning in packages with interesting stand-ups which showcase and interacting with viewers on social media. Now that doesn't mean making them do a Facebook live hit at the empty building. I mean actually interact. Look at posts from viewers and like ones that are appropriate. Look for something that might be a story for tomorrow. Try and get some facts. Be ready to take off on that breaker. Bottom line: Instead of standing in front of an empty building or a dead, boring scene, waiting on time cues, it would be far better to focus on providing extra information on digital platforms and/or find the next good stories to cover. Staffing is not getting any larger, and reporters could use extra time to search for stories, talk with sources and showcase more information online. How often do you lament the fact that reporters do not have good pitches in editorial meetings? This is an opportunity to give them some time to find the good stories. Yes, this is a big change in thinking for some of you. But it could revolutionize how you gather information and make your news gathering better and more efficient. 
If there is an active scene, of course, show it off. Do multiple hits if there is new information. To be clear, if a court hearing is about to wrap up, that's an active scene. If people were just taken to the hospital and you are at the hospital waiting on condition reports, yes, that is an active scene. Sometimes you cannot get around being live in front of a building. But far too often there is no point for a reporter to stand somewhere live, other than the EP said the reporter "has to be live."
To wrap up,  live shots are a great part of television news when done correctly and in a way that has impact. That means showcasing an active scene, being at a scene because new information is imminent or being able to walk through the remnants of a scene and visually showcase what happened. All of these examples help the viewer gain greater understanding of the story. If there is nothing to show, and no new information about to come from the scene, skip the insistence on the live bug. Instead allow the crew to focus more on digital coverage, source building or story gathering for the next day. That's how the TV industry should rethink live shots. Viewers will reward you for it.